Eaglehawk Top Ten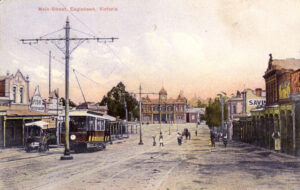 Walk the strip
Star Cinema sits at the bottom of Eaglehawk's main shopping strip, High Street. Walk up one side and down the other. There are historic buildings with plaques that explain their history. Do a spot of shopping at some of the many interesting retail outlets. This precinct has a mixture of the 'just what you'd expect' and many recent additions that hint at the emerging hipsterfication of Eaglehawk.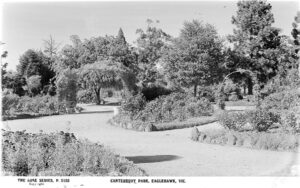 Canterbury Park
Right opposite the cinema is this beautiful garden – Eaglehawk's own botanical! It has everything you'd expect from a small-scale botanic garden with many varieties of established trees, shrubs and flowers. This is the ideal place to soak up some rays, go for a stroll or just lay on the grass and take it all in. There are BBQs, tables and benches and, yes, toilets. Right next to the park is the Eaglehawk sporting precinct including bowls, netball, croquet (yes, croquet!), one of Victoria's best skate parks (so we're told) and a cricket ground with a beautiful Victorian grandstand reminiscent of Edinburgh Gardens in North Fitzroy.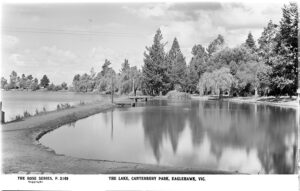 Lake Neangar
One of the hidden surprises that await you as you continue through the gardens is the huge Lake Neangar. Named for the original peoples that inhabited this area before European settlement, this body of water is bounded by beautiful landscaped informal gardens and lawns. Do a lap of the lake to stretch those festival legs and keep your eyes open for a range of birdlife. If you're lucky, you might see a pelican or two!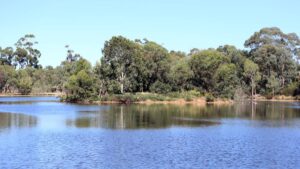 Lake Tom Thumb
What, another lake?! Yes, as if one weren't enough Eaglehawk has a second lake with its own unique charm. Just across the road to the northeast of Lake Neangar is another beautiful body of water. This one has more of a bushland feel with gravel paths and lots of water bird action. Do the 'figure 8' as the locals call it and walk both lakes if you've got the time and energy.
Up for a swim?
If you're a water baby and feel like a dip between films, the Peter Krenz centre at the cinema end of the lake has got you covered. A favourite with aquatic Eaglehawkers.
Mulga Bill Walking Track
Named after Banjo Paterson's penny farthing tearaway, this walk starts opposite the northern edge of Lake Neangar (next to the scout hall) and leads you just into the southern edge of the Whipstick Forest and up to Lighting Hill. From here you can see for miles – right across the small neighbouring township of Bendigo.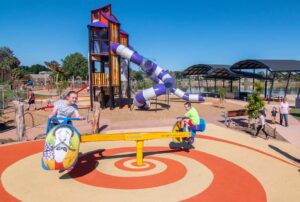 Eaglehawk Playspace
On the southern edge of Lake Neangar lies this state-of-the-art playspace themed on the classic children's book Mulga Bill's Bicycle, illustrated by Kilmeny and Deborah Niland. Get your inner child on and take in all the action. **Hot tip: the Cheeky Cavoodle coffee caravan, right next to the playspace does delicious coffee and world class toasties!
Whipstick Forest
If bushwalking is more your thing, get yourself out to the Whipstick, only a short drive north of the cinema. This is a vast area that forms part of the Greater Bendigo National Park. Covered in tall iron bark trees and other local vegetation, there are lots of discoveries to be made here including plenty of evidence of the gold mining days.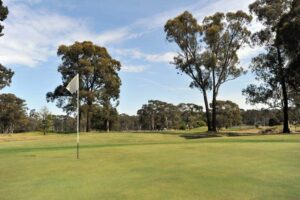 Neangar Park Golf Club
Combine your gold and your golf and have a thwack at Eaglehawk's own set of fairways. Check out their website to see what's on offer.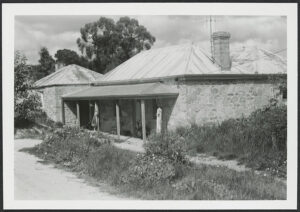 Harvey Town
A short drive to the south west of the cinema is a small group of stone cottages near the crossroads of Clarke and James Streets, forming a hamlet around a mining gully. Known as Harvey Town, two of the cottages are on the Register of the National Estate. There is an information board explaining the history of this little hidden goldrush gem.